Sense and Sensibility by Jane Austen: Summary
The death of Henry Dashwood brings a cloud of despair in the life of Mrs.Dashwood because her husband Henry left all his property in the name of his first wife's son John Dashwood. Though John wants to help his stepmother and her three daughters, he cannot as he is warned by his wife Fanny Dashwood.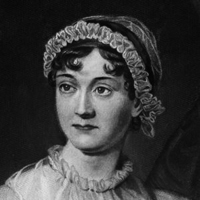 Jane Austen
John and Fanny take the charge of the house and the life of Mrs. Dashwood and daughters become miserable. At the same time Fanny's brother Edward pays a visit to his sister. There he meets the Dashwood sisters and becomes fond of Elinor. Elinor too loves Edward but cannot express her feeling as she is warned by Fanny detecting their mutual likings. Mrs. Dashwood is offered a house by John Middleton and she decides to move there.
In their new settlement in Barton Cottage, they meet Mrs. Jennings and the neighborhood of Middletons. Another good acquaintance they meet is Colonel Brandon, a reserved and cultured man. One day, while walking in the countryside, Marianne sprains her foot and she is helped to come back home by a handsome man named Willoughby. Their accidental meeting develops into a friendship and into love. But one day suddenly Willoughby leaves for London and Marianne goes into the severe state of depression.
After some time, Mrs. Jennings takes Elinor and Marianne to London with her. Their Marianne looks forward meeting Willoughby. She writes a letter to him and waits to see him soon. One evening, she surprisingly meets Willoughby but becomes sad by his cold response. Her all dreams shatter when she receives a letter from Willoughby informing that he is going to engage with another lady who is far rich.
John Dashwood comes to Portman Square and invites his sisters to come. In the meantime, the Steele sisters arrive in London and get acquainted with Elinor and Marianne. Lucy tells Elinor of her secret engagement with Edward. Elinor is miserably horrified by the news, but she is able to control her feelings. When Fanny learns about the secret engagement of Lucy and Edward she becomes angry with the Steele sisters. Mrs. Ferrars disowns Edward, but Colonel Brandon offers him a post at Delaford.
Elinor and Marianne along with Mrs. Jennings travel to Cleveland at the invitation of the Palmers. Marianne falls sick and her condition deteriorates. Colonel Brandon goes to take Marianne's mother. All of a sudden, Willoughby also comes to Cleveland and knows about the condition of Marianne. He immediately goes to see her and regrets his marriage to Miss Graey just for the sake of property. He also confesses his love to Marianne. After some days, Marianne recovers and leaves for Barton along with her mother. They all feel good to Brandon for his valuable help. Marianne slowly feels good and now she is relieved to know that she has nothing to do with Willoughby. She now loves to live.
One day the Dashwoods get information of wedding of Lucy and Mr. Ferrars. Elinor becomes sad to learn that. But when Edward comes all the misunderstanding becomes clear. Lucy is going to marry Robert, brother of Edward because Mrs. Ferrars disowns Edward. He then proposes to Elinor and she happily accepts. Mrs. Ferrars also excuses Edward and Elinor and Edward get married. They settle down at Delaford. Colonel Brandon also gets favor from Marianne and both get married. Mrs. Dashwood lives at Barton with her youngest daughter.