I like a look of Agony by Emily Dickinson: Summary and Analysis
This small poem tells us about the agonized looks of a sufferer and finally about the agony of death. The look of agony is real because it cannot be imitated. On the contrary, men may simulate a look of cheerfulness. The agony of the dying man and the gaze in his eyes cannot be unreal, because such convulsion and agony cannot possibly be imitated.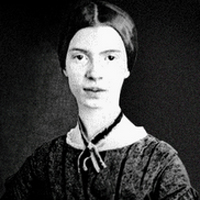 Emily Dickinson (1830-1886)
Emily Dickinson's liking of the look of agony is characteristic of her, revealing her attitude of despair.
The poet likes a look of agony of pain and suffering, because it is true. Men, even the most theatrical of them, do not simulate the convulsions of tragic suffering. By implication, Emily Dickinson hints that men may, more often than not, outwardly bear a look of cheerfulness. Life is basically sad and therefore looks of agony on the face of man are natural and true. Man's attempts to look cheerful are only artificial.
The second stanza deals with the agony of death. If the eyes glaze, that means death. Apart from the glaze in the eyes, death brings many hideous twists of agony in man, which cannot be feigned. The hideous knots and twists of the agony of death are beautifully described as beads upon the forehead strung by familiar pain and suffering.
She likes a look of agony does not mean that she gets pleasure from it, rather she wants to convey the truth that the look of agony has a look of true feeling of the person. People cannot make a fake face while he/she is agonized. People can make fake physical pain but the deep emotional pain cannot be feigned. No one can hide the pain of separation, anxiety, sorrow, emptiness, etc. and there is another fact that too cannot be acted out and that is the final thing to do; death. Death comes only once and no fake face and emotions can be made when one is dead.
"I like the look of Agony", honesty is valued over everything else. Although there is a darker element to the poem it values honesty as the best policy and explores honesty through pain.
Cite this Page!
Shrestha, Roma. "I like a look of Agony by Emily Dickinson: Summary and Analysis." BachelorandMaster, 11 Jan. 2018, bachelorandmaster.com/britishandamericanpoetry/i-like-a-look-of-agony-summary-analysis.html.