The Scene outside the Club in To Bobolink for Her Spirit
The autograph hunters wait outside the club for their favorite movie stars and when they come out they ask for their autograph. There are six people waiting for their favorite star. To kill the time, they talk and walk in the narrow way restlessly. A carefully dressed couple comes out of the 21 club.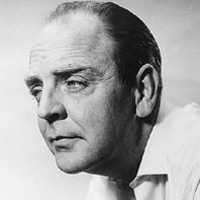 William Inge (1913-1973)
The couple is ridiculously indifferent to them. Fritz asks his friend Renaldo who she is Gretchen replies that she looks like Rosalind Russell. Bobolink says that she is not Rosalind Russell because she is not tall. Annamarie praises her dress. Fritz approaches the attractive woman and asks for her autograph. The woman is a little surprised and signs her name.
After the couple goes by taxi they read out the name as Irina Nechibidikoff. They conclude that she is not a movie star. Anyway, Fritz is happy that he got her autograph whoever she is. After a while, another couple appears at the entrance. They try to guess who they are. Gretchen wonders if the man is Perry Como and Bobolink replies that he is not Perry Como. To Nellie the girl looks familiar and she thinks the girl is in the pictures. Bobolinks replies negatively after a moment's study. But Fritz supposes that they might be somebody they have not heard about and asks for their autographs. Annamarie asks the girl if she is in the pictures. The girl says 'no.' Gretchen wants to have their signature, anyway. Annamarie thinks that they are telling a lie. Bobolink says that they are not famous ones and that she doesn't have time to waste on people that might be famous. The other people guess that they might be models. Then Bobolink evaluates her friends as kids.