Style of Norman in 'night, Mother
The style of Marsha Norman in 'night, Mother offers a few stylistic traits. To understand some of the unique aspects of Norman's style, we need to focus on the language used in the play 'night, Mother. Two characters Jessie and Thelma talk in the language really spoken by those whose lives are threatened by the ravages of frustrations and futilities.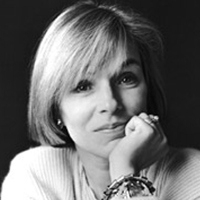 Marsha Norman (21 Sep. 1947)
It has often been said that those whose lives have been trembling on the verge of suicide take deliberate interest in trivial things. The same thing happens in 'night, Mother, Jessie Cates has made up her mind to end her life by suicide. She also decides to talk about it with her mother freely. She advised her mother to take care of those kitchen utensils, which had been kept neatly by Jessie in kitchen rack.
Norman's style of composing dialogue in Night Mother is marked by the veneer of realism. By focusing on the nature of the conversation between Jessie and Thelma, Norman is actually seeking to represent the psychological realism of those women whose lives became synonyms of futility. Real life conversation has given a new inducement to Marsha Norman's play. The language of frustration and futility has been widely exploited by Marsha Norman in 'night, Mother.
Of all the crucial components of a play Marsha Norman has given Singular attention to the development of dialogue. Dialogue has received the playwright's undivided attention. By dint of dialogue Marsha Norman has succeeded in giving an experimental characteristic to the play. Dialogue has not only been shown as a crucial element of a play. Rather dialogue of Night Mother has occupied the privileged position of the genre of drama. The status of dialogue is so elevated that it itself has become the play. To put the same fact clearly, Norman's dramatic style is designed to be subversive of the hierarchy between the dialogue and the drama 'night, Mother is cast in the mold of dialogue.
Each and every character in 'night, Mother is seen preoccupied with his/her past and present. Future is dead for them. Future is often held as a symbol of hope, expectation, optimism and progressive change. To Thelma and Jessie the future has shut its threshold. Future is alien to them. Their present is so frozen with frustration and futility that it does not offer them a scope to talk about their future. Since future is no longer imaginable to them Jessie and Thelma are stalking in the language of past and present. They are so broken by the piercing and penetrating arrow of futility that they are seen totally unable to speak in the language of future.
Another far more striking stylistic trait of Marsha Norman is that the playwright does not allow the disciple of suicide, Jessie, to make gestural language of suicide. Jessie Cates has selected the path to suicide as the only constructive and emancipatory way of coping with the violent futility of life.
Since Jessie Cates is frank in an expression of her determination to commit suicide, each and every verbal, physical, emotional and psychological movement of Jessie Cates is tainted with a straightforward frankness.
As a synthesizer of tradition and experimentation, Norman has factfully exploited her stylistic traits. Upon serious reflection, it can be said finally that her style is the pressing outcome of the urgency of thematic audacity.
'night, Mother Study Center
Jessie's Last Night in 'night, Mother
Dramatic Technique in 'night, Mother
Feminist Voice in 'night, Mother
The Myth of Failed American Dream in 'night, Mother