Suffering of Postmodern Women in 'night, Mother
The problems faced by postmodern woman are alienation, loneliness, estrangement, instable family structure, crisis in emotionality and sterile nature of human existence. When Jessie told Thelma about her preparation for suicide, Thelma at first did not believe. Thelma took this decision of Jessie as a kind of joke.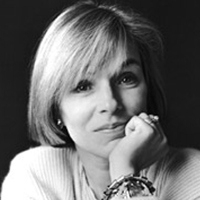 Marsha Norman (21 Sep. 1947)
But as the conversation between them prolonged seriously Thelma had to believe that Jessie Cates is really preparing for suicide. Thelma did everything within her reach in an attempt to dissuade Jessie from treading on the path of suicide. No matter what logics and arguments Thelma puts forward, Jessie remains unwavering in her commitment to elevate her life by committing suicide. After knowing that Jessie is hell-bent upon committing suicide, Thelma became terribly frightened of loneliness within her. Once Thelma became dangerously afraid of killing loneliness after her husband died. With an expectation from her son, Dawson, Thelma tried to fill the void of her loneliness resulting from her husband's death. This expectation also failed to get materialized because Thelma's son Dawson began to live with his wife separately from her. Again Thelma grew painfully conscious of her loneliness. To seal the void of this loneliness Thelma turned toward Jessie. She kept Jessie with her. She gave some daily household chores to Jessie so that Jessie could feel purposeful life by doing those household chores. By getting Jessie engaged in household works Thelma was actually creating purpose in purposeless life of Jessie. In an indirect way Thelma herself was also taking advantage. Thelma was fiercely afraid of loneliness. By Keeping Jessie with her in point of fact, keeping her own loneliness at bay. Jessie's absence due to her suicide could mean a tormenting resurgence of embedded loneliness. After seeing Jessie's obstinate decision to commit suicide, Thelma was as afraid of her loneliness as a child is afraid of darkness. This fear of Thelma in her compulsion to confront loneliness is a root of suffering. Modern women are basically lonely because due to the overt consciousness of self-sufficiency and individualism, their relationship is as volatile as climate. Human relationship is instable in the postmodern world. This instable nature of the relationship has destroyed the stamina of postmodern people, particularly women facing the burden of basic loneliness.
Owing to confusion, despair, disappointment and depression resulting from crisis in relation, the will to assertiveness has been dampened. It is the wrong postmodern outlook that is solely responsible for generating countless emotional problems.
'night, Mother Study Center
Jessie's Last Night in 'night, Mother
Dramatic Technique in 'night, Mother
Feminist Voice in 'night, Mother
Style of Norman in 'night, Mother