The Glass Menagerie by Tennessee Williams: Summary
The Glass Menagerie by Williams Tennessee is a memory play, which is an experimental technique in modern drama. All the actions of the play are taken from the memory of Tom, the narrator. Tom works in a shoe warehouse to support his family as his father had already left the family without any apparent reason.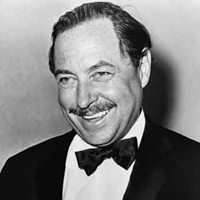 Tennessee Williams (1911-1983)
Amanda, the mother of Tom and Laura, cherishes her days remembering her old memories when she was approached by scores of suitors. She is worried about her daughter Laura who is too shy to attract any gentleman. Hoping that Laura will be independent and look after her family through her business she admitted her in a business college. But later on she finds her roaming around in the town just because of her crippling shy nature to adapt the outer situation. On the other side, Tom, who hates his warehouse job, seeks to run away from the responsibility. He starts taking alcohol, cigarette, and goes for movies as an escape from the burden. Amanda becomes too irritated on her son's behaviors.
Amanda and Tom have a grave discussion on the future of Laura and Amanda suggests Tom to look for some good suitors at the warehouse. Tom brings Jim, one of his friends, for the dinner. Being excited Amanda prepares an elaborate dinner and makes sure Laura is in her best dress. Before the arrival of Jim Laura learns about him and recognizes him that they were friend at the high school and she had a crush on him. But when Jim comes home, she leaves Tom and Jim alone and even refuses to have dinner together. Tom confides Jim that he will soon leave his tiring job and goes for the adventure.
As the dinner is about to finish the light goes out. They light the candles and Amanda suggests Jim to go to the living room where Laura is sitting. Tom and Amanda both clear up the kitchen. At first, Laura is nervous by Jim's company, but because of Jim's frank nature, she feels comfortable with him and reveals that she knew him in the high school and was fond of him, but because of shyness could not express her feelings. She further reminds him that he had given her a name "Blue Roses". He encourages her to come out of the shell of shyness. She shows him her collection of glass menagerie and her favorite unicorn made up of glass. While dancing with her Jim happens to knock over the unicorn and breaks off the horn making it a normal horse. Laura does not mind it. Jim kisses her, but suddenly draws back and asks for forgiveness and accepts that he has a girlfriend. Seriously hurt, she offers him the broken unicorn as a souvenir.
Amanda suddenly enters the living room expecting some good news, but faces Jim at the door who is explaining that he must leave as he has an appointment with his fiancée. After his departure, Amanda gets angry at Tom for being so irresponsible and bringing Jim even if he is engaged. Tom too did not know that Jim is engaged. Amanda comforts Laura and Tom leaves his mother and sister for the adventure. Years later, though he is too far from the house, he cannot escape from the memories of Laura.
The Glass Menagerie Study Center
Appearance versus Reality in The Glass Menagerie
Nature of illusion in The Glass Menagerie
Dramatic Technique in The Glass Menagerie
Tom as a Representative of the 20th Century Man
Laura as a Romantic Superwoman in The Glass Menagerie
Southern Womanhood in Modern World in The Glass Menagerie