Tom as a Representative of the 20th Century Man
Tom Wingfield is a conscious self. Most of the time he is seen observing and reflecting his experiences, his memories. The entire play is an enactment of a moment in his memory. The kind of reality Tennessee Williams has captured in this play is the reality that exists in memory.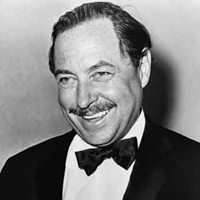 Tennessee Williams (1911-1983)
The main events of the play are filtered through the perspective memory of Tom Wingfield. The series of experiences and emotions that are presented in the play are the conscious outcome of Tom Wingfield's reflection on his past. It is an enactment of his memory. He is torn between responsibility and irresponsibility. He is torn between escapism and a necessity to involve in action. He is on the eve of transition. Most of the time he is seen consciously reflecting. But reflection alone does not satisfy him. He is compelled to act also. There arises a gap between his conscious reflection and his action. That is why he suffers.
The nature of his suffering ought to be taken into consideration. Tom suffers because he can neither kill reality nor worship illusion. He is not totally jobless. He is an employed man. But his employment is a source of extreme dissatisfaction for him. He aims at effecting progressive change in his life. He made tremendous effort also. But he remained trapped in the static and the sterility of life.
Having seen the unconquerable and invincible nature of the dreary reality, Tom gave birth to a propensity to escape. This escapist propensity led to his being seduced by the magic-charm of illusion. Tom knew, by that time, that adventure is the surest way of escaping the confinement and cage of life. That is why, he chose adventure. Finally, he left his house for an adventure. But he was compelled to return by the magnetic pull of love and the call of responsibility.
Tom Wingfield is a man caught between illusion and reality, duty and freedom, involvement and escapism, and reflection and action. He is stuck with these problems. He is inextricably trapped in these two disrupting conflicts between these polar opposites. In this regard Tom appears to be representative of the suffering of modern man. The modern man in the twentieth century is wholly torn between these polar opposites. He can't easily distinguish between illusion and reality.
The Glass Menagerie Study Center
Appearance versus Reality in The Glass Menagerie
Nature of illusion in The Glass Menagerie
Dramatic Technique in The Glass Menagerie
Laura as a Romantic Superwoman in The Glass Menagerie
Southern Womanhood in Modern World in The Glass Menagerie