The Glass Menagerie by Tennessee Williams: Introduction
The Glass Menagerie was first staged in 1944 in Chicago, which claimed the New York Drama Critic Circle Award for Williams Tennessee for the first time. The play revolves around the escapist Tom, who is responsible to look after his crippled sister and nagging mother.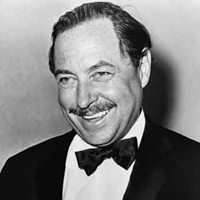 Tennessee Williams (1911-1983)
The play is set against the background of depression where the characters struggle with the past, the future and with each other.
One of the most strikingly dominant hallmarks of The Glass Menagerie is that it is a memory play. By making the play a memory play, Williams gained a ground to add an innovation to the modem theatre by rejecting the illusionist conventions. Throughout this play the present life of the character is penetrated by the memory of the past life. To break the illusion of the present reality the fantasy elements and memories of the past are frequently introduced in the play. Through the device of the screen, legend, and memory Williams succeeded in subverting the deep seated theatrical conventions that forces a seated theatrical convention that force a drama to capture an illusion of reality.
The equally striking feature of The Glass Menagerie is that it is an autobiographical play. Williams said that The Glass Menagerie is a tribute to his sister. William cast Laura into the mold of his sister Rose. Amanda is cast into the mold of his mother. Laura's father who has fallen in love with the long distance is none other than Williams' own father who never used to stay in the house.
Another feature of this play is that it lacks realistic dimension. The play is not realistic. Almost all the characters in the play are habituated to live in the world of illusions. They are prone to relapse into the promised land of dream. They are afflicted with the tendency to manufacture illusions. Due to their entrapment in illusions, they were far removed from the light of reality. Since they are blind to reality, the playwright did not bother to give a realistic touch and twist to the dimension of play.
Tennessee Williams is disinterested in the mode of the 19th century realism. The 19th century technique of realism failed to stimulate him. Therefore, he happened to embark on the ship of the psychological realism. By the expression The Psychological Realism we mean the realism which is appropriated from observing the psychological reactions of the characters to the events that befall them.
Williams specifies a setting that is almost dreamlike, using Brechtian devices such as the visual images and screen legends flashed at appropriate moments. He uses music to establish a mood. Williams uses symbols to cater the implicit meaning of the play.
The Glass Menagerie Study Center
Nature of illusion in The Glass Menagerie
Dramatic Technique in The Glass Menagerie
Tom as a Representative of the 20th Century Man
Laura as a Romantic Superwoman in The Glass Menagerie
Southern Womanhood in Modern World in The Glass Menagerie