Clay by James Joyce: Critical Interpretation
Maria, a female protagonist, in Clay represents a quiet life of a single maid who is famous for her "peace making role" in the laundry. It is a great irony that though she is a great peacemaker in laundry, she has been unable to maintain peace and order in her family. She fails to settle the conflict of her two brothers which always saddens her.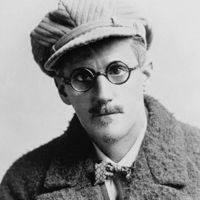 James Joyce
Nothing much happens in the story or in the life of Maria. Minute details of each and every single actions play an important role in her life. She wants everything properly settled and well managed. She does the kitchen work very precisely and hopes for same precision in all chores. Great incidents are not necessary to make her happy or sad. Just with the loss of cake, she becomes so furious and with the warm welcome of Joe and his family, she becomes quite happy. By keeping her busy in small and trivial issues of day to day life, she is trying to forget the bitter reality of her life. She is single, unmarried maid. Her long nose and chin meet when she laughs. She is not beautiful. In spite of her manageable beauty, no young boys in the tram notice her. She hides her frustration, anger and agony and keeps her mind and herself busy in minute works in life. She even divides each minute of the day where she would go, what she would do and how much time she would spend.
The title Clay symbolizes early death. Metaphorically the clay implies the early death of detail oriented life and event-less life of Maria. The clay in the Halloween game also suggests the monotonous and frustrating life of Maria up to that moment and the selection of prayer book indicates her second life in the convent. A life full of devotion in the name of god.
The story 'Clay' is written in very simple language. While going through the story, the readers feel as if simple Maria's simple language is being used. The frequent use of 'nice' and 'right' words show the gentleness and positive aspect of Maria.
Through the depiction of Maria as tidy, pious, proper, nice and dull James Joyce shows the psychologically repressed personality. The words are repetitive and vocabularies are simple, but the psychology of Maria is disturbed and mysterious.
Socially and religiously bound Maria can never show her loveless life and suffers whole life; First half of the life in the name of society and second half of life will be in the name of religion.