Clay by James Joyce: Summary
The story is about a middle aged woman called Maria, who works in the kitchen of a laundry established for the reform of prostitutes. She was a small person in physical structure having long nose and long chin.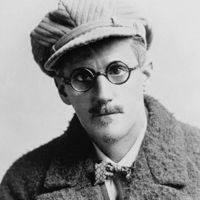 James Joyce
She was very polite in terms of talking and she always settled the conflict in her laundry. So she was liked by all. The matron of the laundry gave her permission to go out after the women had their tea. When the tea was ready, she rang the big bell and the women came in. Kizzy Flemming wished Maria would get a wedding ring in the Halloween game. Ginger Money prayed for her good health. Maria laughed on their wishing and also felt sad.
She got dressed and went out. She thought that she would be able to visit Joe, one of her brothers, before seven o'clock. She had nursed two brothers: Joe and Alphy. But Joe and Alphy hated each other which hurt Maria. Maria thought that she would buy things on the way and if Joe was not drunk, she would enjoy the Halloween party with him.
When she came out, it was raining outside. She got on the tram and started thinking about two brothers who quarreled all the time. She felt sad for not being able to be with two brothers at a time. She got out of the tram to buy cakes. While in Henry Street, she took time to choose the plum cake, and one of the salesgirls asked her if she was looking for the wedding cake. On hearing that, she felt ashamed and chose one cake. On the way to Joe's house, on the tram, she was asked about her children. Here, she felt shy. Though the young boys ignored her, one elderly man responded her politely in the tram.
She reached Joe's home and all felt glad to see her. She gave them cakes but could not find the plum cake she bought for her parents. She had forgotten it in the tram. She was sad and said that she had wasted so much money on nothing. Joe consoled her and made her happy. They had music, dance, beer and wine. They talked about their childhood and when Maria mentioned Alphy, Joe was angry. Joe's wife, Mrs. Donnelly, angrily said that it was a matter of shame to talk about in that manner of his own brother.
They had a game. The participant had to be blindfolded and had to choose things from the table. The chosen thing would predict his/her future in the upcoming year. Maria was blindfolded and was led to the table. She chose a thing which was wet and watery (actually 'clay' a symbol of death) and she heard some unusual whispering. Thinking that she close something wrong, she moved her hand and got a prayer book which means that she would enter the convent in the service of God. She was forced to sing a song so she sang a lovely song but omitted some lines. Joe was touched with her song and his eyes were watery.