Clay by James Joyce: Theme
Clay by James Joyce is very highly symbolic story. It shows us a middle-aged woman named Maria and her usual life. Maria is an unmarried woman who lives her life very simply. As her life is a very simple one and as she is unmarried, we can assume that she is not happy with her life.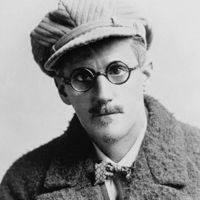 James Joyce
The title 'Clay' therefore may be indicating her petty and unimportant existence, which is as useless as clay. Most of the beginning paragraphs, are related to her day-to-day activities. The writer seems to suggest us that Maria's life has become a very unimportant thing like the insignificant daily choices which she does every day.
The story has so many symbols in it. Firstly the title itself is a very symbolic one. Maria's day-to-day life is full of dullness, which stands as a symbol of her uninteresting life. She doesn't find charm in her daily activities. There is a lacking in her heart. The narrator does not describe why it is there, but we can assume that given the situation, her prosaic (Banal, mundane, dull, ordinary, and commonplace) life is a result of her own loneliness. Her shyness, when Kizzy told that Maria was sure to get the ring, is another expression of the fact that she still feels romantic about the question of marriage. In fact, when she meets the gentleman in the trump, her romantic feeling is so great that she forgets the valuable plum cake, which she bought for even more valuable Joe. These events are enough to prove, that the writer is highly symbolic in his approach.
Moreover, the games played at Joe's home are even more symbolic. Maria's getting the Clay signifies her going towards that way of decay or decomposition. If we examine it closely, we find that it has the undertone of Maria's going towards death. The writer means indirectly that her worldly days are about the end. And he has almost the same tone, which she gets the prayer book, which symbolizes how she should go towards the spiritual side. It's better if she is a nun now. The story, in all ways is a remarkable combination of various symbols, which unify the various events together to produce a meaning of clay or decomposition.